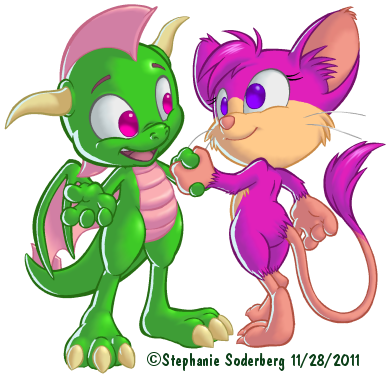 NOTE: THIS WIKI IS UNDER HEAVY CONSTRUCTION. Edit
Welcome to the Naku Forest Wiki
Edit
This is a wiki dedicated to listing and archiving any and all data and artwork regarding LunaYoshi's characters from her original concept of Nolosha, the world of Naku.
WARNING: SPOILERS
Naku in a Nutshell
Edit
The Naku universe focuses on a small band of furry misfits from all surrounding areas to their established home deep in Naku Forest in the colorful and mysterious world of Nolosha. Originally formed as a small camp for outcasts, it quickly grew into a community as isolationist views among species spread and expanded in power. Conformity and adherance to tradition became unbearable for some who disagreed with their clan's practices, and others were shunned for their breach of customs or delinquency. While not entirely free of conflict, Naku Village is quite peaceful overall, and its inhabitants pool their unique skills to keep the community prosperous and safe.
Recent events have shed light on a separate, more hostile group of outcasts called the Marauders who seek to overthrow all communities in Nolosha for dastardly purposes. Will Naku Village be assaulted by this rebelious group? If they are, will they persevere? Do the Marauders actually live up to their brutal reputation? Click around and find out!
Character Quick Links
Edit

Naku Founders
Milo the Kangaroo • Lance the Dragon • Corinne the Raccoon
Naku Second Induction
Napoleon the Fox • Sri the Cat • Phineas the Bluebird
Naku Third Induction
Akinori the Panda • Lyra the Canary • Tyler the Skunk • Anuka the Dragon
Marauders Founders
Halinka the Badger • Yafeu the Eagle • Irma the Raccoon
Marauders Second Induction
Dorae the Bat • Greta the Opossum • Solana the Cat • Bukinori the Panda
Tertiary Characters
Renata the Jerboa • Circe the Cardinal • Percival the Ferret
Khalon the Porcupine • Efrain the Cockatoo • Jabari the Lemur
Legal Notice

Edit
Any and all characters and artwork are copyright ©Stephanie "LunaYoshi" Soderberg unless otherwise noted. Please do not copy, alter, or redistribute.